[rev_slider_vc alias="granoltherm"]
The Granol'therm Range
Modern, classic, contemporary or rustic. Diversity rules, and that is reflected in our line of external wall products.
Granol'therm® Value
Economic and Efficient
Granol'therm Value has had a proven performance record for over 40 years. The system has been tested for years and has withstood all possible trials successfully.
Granol'therm® Impact
High Shock Resistance
Granol'therm Impact incorporates an organic resin based reinforcement mortar which provides maximum resistance to Impact and Shock loads.
Granol'therm® Mineral
High Fire Resistance
Granol'therm Mineral provides maximum protection against fire (Class A) due to the use of fireproof Mineral Insulation panels.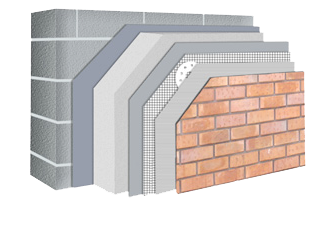 Granol'therm® Brick
Extensive Brick Finishes
Granol'therm Brick combines optimal wall insulation with the charm of brick.
Granol'therm® Traditional
Natural Mineral Finishes
Granol'therm Tradition provides a wide range of mineral plaster finishes with a natural appearance.
Granol'therm® Dash
Traditional Dash Finishes
Granol'therm Traditional Dash provides arange of mineral dry dash finishes with a natural rough appearance.